Need a cheap (£7,000) viable electric car?
100 mile range and motorway speeds in a family car?
Think it can't be done?
Read on.
Go to
Community/Developers
site
Have a look around the car and see the technology in the
virtual showcase
See the
patent motor, controller and hybrid technology
which will make the Mass-EV unique.
See animations of the
car design and the engineering
.
See the
project progress
including full details of the mechanics, electronics and software.
See also full details of the controllers and motors of the Toyota Prius
(including
exclusive previously unreleased Prius specifications
) in the
R & D program
.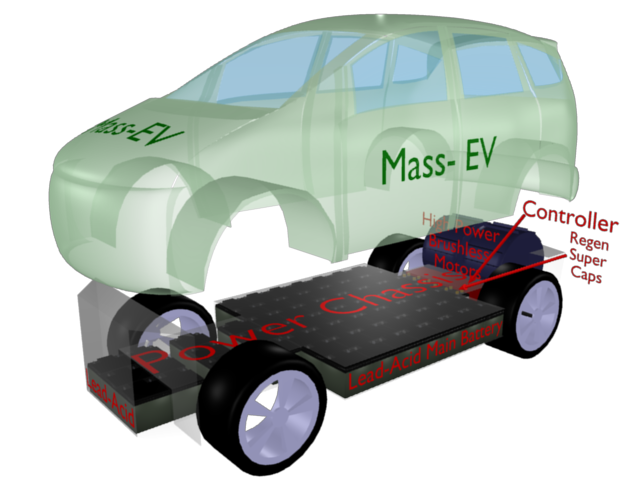 Total profit after 5 years nearly £47 million with an initial investment of £1,110,000.
Mass-EV Project Plan
News:
Today Turbo Electric is working with
NC Engineering
to build a new prototype. This will be a long range vehicle (400 miles per charge) and has a target retail price of around £20,000. Work is predicted to start in September with the chassis. This is in preparation for the British Motor Show next year where the vehicle should be on a stand for all to see.
Thanks to an old backup and the
WayBack Machine
this site is finally being restored. After my cloud facility died I have been slowing restoring this site back as much as I can. I created a new site on which work was to continue while this site was being restored
here
There are still parts missing and perhaps permanently lost, but it seems most of the site is recovered.
Now the final design is realised and research is being completed, the controller needs to be refined and tested. Due to the new design of controller a full
SPICE model
is being developed. This full prototyping, including PCB testing of the development various stages, is time consuming, but necessary. This is needed to debug and tune the controller and achieve the target of a low-cost, highly-efficient, powerful, robust controller.
The Class-D push-pull design of the new controller will now incorporate
trinary (3-state) logic
.
This is the first controller to do this.
This means the controller can be very efficient using 3 output BLDC states per phase, but still be safe from shoot through by design.
Today we have a successful test of the class-D push-pull controller circuit. This is a simple controller design which meets the design specifications required for a production controller. Next stage is to refine, build and test the full production controller and move to in vehicle testing.
Over the last month a high speed link to be used in the cars is being developed. This is almost complete and will be designed to work with the 3D display fitted to the cars. In fitting with the philosophy of the project this is using readily available equipement. In this case it is using
standard PC networking
so this makes it very easy for diagnosis by the average computer user.
Today testing of the new controller on high power motors has started. This means it is expected an electric vehicle will be on the road within a month.
Older news..
More achievements are available on the
project page